Here at the Davy Crockett Travel Center, we have teamed up with
TA to bring you the best truck service possible.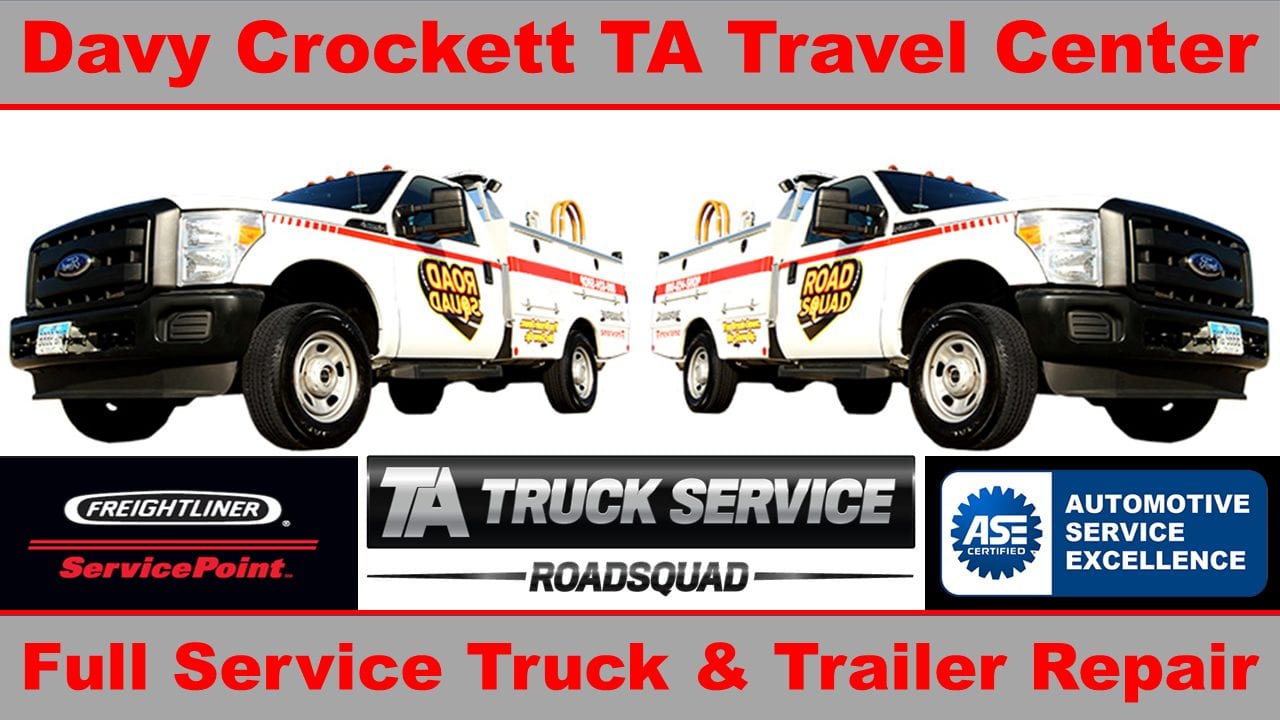 Back in our brand new 6 bay shop, we will work on all trucks and trailers. We are A Certified Freightliner ServicePoint, but we also stock a large variety of all
other major truck manufactures parts like Peterbilt, KW, Volvo, Mack, and
International. if for some reason we don't stock a part you need the
Davy Crockett Travel Center is strategically centered between
major cities like Johnson City and Knoxville with
Multiple truck dealers like: Triad Freightliner, MHC KW, and World Wide Equipment.
Specialized truck part stores like: Truck Pro and Fleet Pride.
And local part suppliers like: Napa Auto Parts and Oreily's Auto Parts.
Some services and parts we perform and carry!
PM Services: We have 3 different levels of oil changes: Rapid, Premium, or Ultimate. Carrying bulk and gallon jugs of Delvac, Delo, and Rotella oil in conventional, semi-synthetic, and full synthetic in all brands. Along with multiple fuel additives like Howes, diesel 911, and hotshot, and oil additives like Lucas oil stabilizer.
Road Service: We have partnered with Road Squad to give you the best road service possible. We have a fleet of 4 road service ready trucks along with technicians available to roll out on every shift no matter where or how you break down.
Brake service: We perform brake adjustments, brake replacement (disk or drum), and brake chamber service with major brands like Meritor and Haldex.
Filters: A large stock of oil, fuel, fuel/water, and air filters for all makes of trucks, reefers, and APUs. Fleetguard being our major supplier, but we also carry Paccar, Detroit, Alliance, Donaldson, and Napa Gold filters as well.
Diagnostic Service: We have all the tools and equipment necessary to diagnose any problem with your truck or trailer. We carry both J-Pro and Abs diagnostic equipment that will put you one step further down the road!
Alignment and Tire Balance: We carry a Hunter alignment machine that will do both truck and trailer alignments with techs on almost every shift who are certified to do them. Along with a tire balancing machine or centramatics to get your steer tires going straight down the road.
Tires: We carry a large stock of tires from tier 1 manufacturers like Michelin, Bridgestone, Goodyear. Tier 2 brands like Yokohama and Firestone. Tier 3 tires from brands like Dayton and Double Coin. Along with a large stock of used tires. Along with Goodyear and Bandag recap tires. Sizes that we stock are 295/75R22.5 & 24.5, 285/70R22.5 & 24.5, 11R22.5 & 24.5, super singles, and a small variety of low-boy trailer and RV tires as well!
Trailer Repair: We also repair trailers, as well! All makes and types! From a simple patch job… To replacing a whole door and hinges.
Chrome: We also install every led light and chrome accessory in our Chrome Shop's inventory. So, if you want to trick your truck, ride in style, and have a trained professionals install it than Davy's Chrome Shop is the place to be!
More: Only a portion of what we can completely do has been listed, and If it can break we can probably fix it. So stop by and let one of our many qualified techs work on your truck when you need it the most.