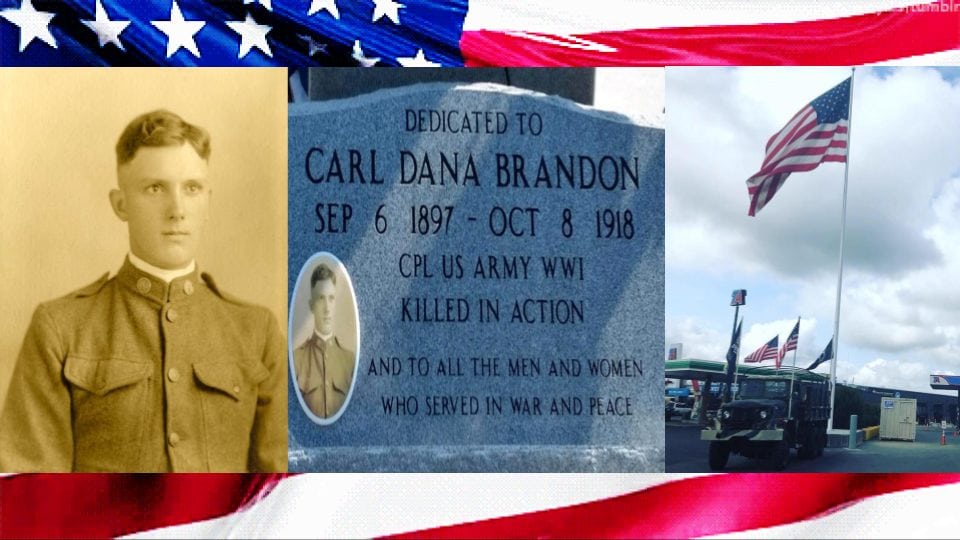 Carl Dana Brandon is the handsome young WWI soldier for whom our 70ft Flag Pole is dedicated to.  Carl Dana was born September 6, 1897 and was raised in the Fall Branch community of Greene County, TN.  He was the son of Andrew Jerome "Rome" Brandon & Cora May Pierce Brandon.  He was also an Uncle to Carl Jerome Brandon, the original Owner & Founder of Davy Crockett TA Travel Center.
Carl Dana joined the Tennessee Army National Guard in May 1917 shortly after graduating from Fall Branch High School.  He advanced to the rank of Corporal later that year and was soon to be on his way across the Atlantic to the European Theatre of the First World War.  He was a member of the 117th Infantry Regiment, 59th Infantry Brigade and the 30th Division.  The 30th Division later became known as the Old Hickory Division, named in honor of General, President, and Tennessee Native, Andrew Jackson.
During the Battle of Montbrehain on October 8, 1918, he was fatally wounded and passed away later that night.  He is interred in the Somme American Cemetery in Bony, France. 
The current owners of Davy Crockett TA Travel Center, great nephews of Carl Dana, are proud to honor the wish of their late Father, Carl Jerome, by dedicating this beautiful 70 ft flag pole to Carl Dana Brandon and to all the other men and women who served in war and peace.  May God bless them all!



































If you would like to learn more about the late Carl D. Brandon and his full write up,
follow this URL: ETVMA Carl D. Brandon Biography